Bill Kramer pleads not guilty to sexual assault, waives hearing
Waukesha — Rep. Bill Kramer pleaded not guilty to two felony charges of second-degree sexual assault Thursday in Waukesha County Circuit Court in connection with allegations that he groped a female congressional staffer in Muskego three years ago.
Kramer (R-Waukesha) waived his right to a preliminary hearing, and Court Commissioner Thomas J. Pieper found probable cause for the case to proceed to trial. Each count of sexual assault carries a maximum possible penalty of 40 years in prison and $100,000 in fines.
Kramer's next court appearance is scheduled for June 18. A trial date has not yet been set.
The charges allege that Kramer grabbed the breasts and groin of the congressional staffer after a Republican event at a Muskego bar.
Kramer's attorney, Eduardo Borda, said Thursday's hearing was the beginning of the process of separating fact from fiction.
"I can tell you clearly that the defense is not in agreement with the recitation of the statements of the witnesses in the case," he said after the proceeding. "I believe in my client, and I believe that when it's all done the story will be told in court one way or another."
The charges were issued in March, one month after Kramer, 49, was accused of groping another aide and sexually harassing a lobbyist in a separate, more recent incident following a fundraiser in Washington, D.C.
Since then, Kramer, a certified public accountant who also holds a degree from Duke University Law School, has filed paperwork saying he would not run for re-election. So far, he has not stepped down from his position, which he holds until January.
Borda refused to address the issue outside the Waukesha County courtroom Thursday.
"My concern here is with the criminal case in Waukesha. Matters that deal with Madison are matters that deal with Madison," he said.
Assembly Republicans stripped Kramer of his title as majority leader in March after accusations of misconduct at the more recent Washington event.
The incident that led to the criminal charges is a sensitive one because it involves Republicans in the Waukesha County area who all know and have worked with each other in various capacities.
It occurred after a "Pints and Politics" event on April 8, 2011, at the High Tide Pub & Grill in Muskego. Kramer was "really drunk and was sloppy, stumbling, louder and more obnoxious than usual," according to the criminal complaint. He asked the woman, a congressional staffer, to give him a ride.
The Milwaukee Journal Sentinel does not identify the names of possible victims of sexual assaults or harassment unless they agree.
In the parking lot of High Tide, Kramer shoved the woman against a car, kissed her forcibly and put his hands up her shirt, according to the complaint.
"(The victim) states she continued to tell him 'no and don't' as she turned her head away from him and pushed at his hands," the complaint says.
The woman was "shocked, numb and not thinking clearly" and drove Kramer to another part of the parking lot. When they arrived, he locked the car doors, kissed her again, grabbed her groin and tried to look down her shirt, according to the charges.
The incident "severely impacted" the woman emotionally and led her to seek professional help, the complaint says.
The victim didn't report the incident to police at the time because she didn't want to embarrass Kramer, the Republican Party and her family. But she did tell Waukesha County GOP Vice Chairman Keith Best as well as a female friend who witnessed Kramer and the woman in the bar's parking lot. Both confirmed to Muskego police that the woman and Kramer had been present at the bar that night and that the woman had later been distraught.
The woman also had an attorney send Kramer a letter stating that he had assaulted her and needed to get treatment for his drinking.
"Rest assured that if you persist with your sexually and or physically inappropriate behavior toward her or another she will reconsider her decision not to go to the authorities," the attorney wrote, according to the complaint.
The woman went to police on March 5, just days after the more recent allegations surfaced of Kramer's misconduct in Washington, D.C.
One of Kramer's bail conditions was that he did not visit establishments that serve alcohol.
During Thursday's hearing, Borda asked Pieper, the court commissioner, to modify that condition, allowing his client to enter restaurants that serve alcohol and grocery stores that sell it.
Kramer took his mother to Denny's on Mother's Day for fear of violating his bail conditions, his attorney said.
"As a Brewers fan, he can't go to the Brewers game," Borda added.
Pieper agreed to the modification but ordered Kramer to maintain absolute sobriety.
Milwaukee Homicides Database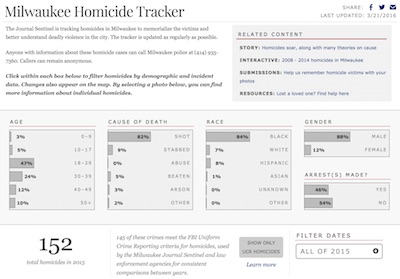 Search homicides in the city of Milwaukee by location, age, race, gender and date.