Waukesha woman accused of jewelry theft on heels of drug theft case
A Waukesha woman, already facing charges in a burglary and theft of painkillers at a co-worker's house, has been charged with stealing more than $100,000 worth of jewelry from her estranged family members.
Amanda L. Michell, 35, was charged Friday with theft of the jewelry and is due in court Thursday for a preliminary hearing.
According to a criminal complaint, Michell entered through an unlocked door to a family member's Brookfield home when no one was there and stole jewelry from a safe. The homeowners suspected someone they knew committed the theft because one of their two large Mastiff dogs is not friendly to strangers.
Michell and her boyfriend pawned the jewelry, police say. The homeowners told investigators they used the jewelry as an investment tool and that the total value of the stolen items was $121,292.75.
Michell told police she was desperate for money to take care of her children and denied that she stole to support her drug habit, according to court records.
Last fall, Michell was charged with three counts of burglary after she was caught entering a co-worker's house and allegedly stealing prescription painkillers.
Michell was caught on surveillance video at the house and arrested during a ruse in which her co-worker pretended to leave the house while the co-worker's husband hid in the basement, a complaint says.
When Michell tried to steal, the male resident chased her as she tried to escape, brought her back to the house and zip-tied her hands behind her back until police arrived, according to court documents.
Milwaukee Homicides Database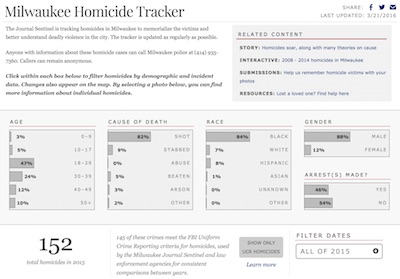 Search homicides in the city of Milwaukee by location, age, race, gender and date.