Student from Waukesha killed in apparent drive-by shooting in St. Louis
In high school at Catholic Memorial in Waukesha and in pharmacy school in St. Louis, Nicholas Kapusniak was known as a happy-go-lucky young man who always wanted to help others.
Early Saturday at a party in the backyard of a home in St. Louis, Kapusniak, 20, was shot and killed in what appears to be a drive-by shooting.
Kapusiak was a student at the St. Louis College of Pharmacy. He was a 2011 graduate of Catholic Memorial High School.
According to the St. Louis police report, Kapusniak was standing with a group of friends at the back of a home at 12:55 a.m. Saturday when a person traveling in a white sedan fired gunshots from a nearby alley.
Kapusniak was shot in the upper left side of his torso and was carried into the home, where he was pronounced dead by emergency personnel.
"For some reason, we don't know right now, a car drove down the alley and started firing into this group," St. Louis Police Chief Sam Dotson told the St. Louis Post-Dispatch.
Jacob Beyer, president of the Alpha Zeta Omega professional pharmaceutical fraternity chapter at St. Louis College of Pharmacy, said he was at the backyard party with about 20 others when Kapusniak was shot.
"We were just hanging out," Beyer said. "There are gangs in the area. There is no one who would want to hurt him."
The home where the shooting occurred and the school's campus are about five miles apart. Police are continuing their investigation. A $1,000 award has been offered.
Beyer said Kapusniak was a "happy-go-lucky" young man who often introduced himself in this manner: "Hi, I'm Nick Kapusniak. I'm known as Kappy because Kappy makes me happy."
"He didn't have an enemy in the world. He was very passionate about the fraternity, and he never had anything bad to say to anyone. He loved drumming, and he loved playing music," Beyer said.
Beyer said Kapusniak was about halfway through his six-year studies to be a pharmacist. "He was going to spend his entire life helping people," Beyer said.
Mary Gentile, a theology teacher at Catholic Memorial, said Nicholas was a member of Operation Michael, a social justice movement in which students prayed and expressed solidarity with the homeless.
Every year, there is a prayer service to mark Operation Michael. Later students sleep outside the school in solidarity with the homeless.
This year's event will be March 14.
"We will have a prayer service, and we will do that in honor of Nick," Gentile said.
The pharmacy school issued a written statement of support for Kapusniak's family and friends.
"Nick was a member of the doctor of pharmacy class of 2017 and the Alpha Zeta Omega professional fraternity. He will be missed by all of us," the school said.
"We are committed to supporting our students through this very difficult time."
Father Paul Hartmann, Catholic Memorial's president, told the Milwaukee Journal Sentinel on Sunday that he remembered Kapusniak as a "good kid who was involved in a number of activities, including volleyball, tennis and social service clubs."
Hartmann said Nicholas had an older sister, Amanda, who also attended Catholic Memorial.
Catholic Memorial's Facebook page included this note: "Our hearts are broken over the tragic death of Nick Kapusniak '11. To Nick's family and friends — the prayers of the CMH community are with you always."
Milwaukee Homicides Database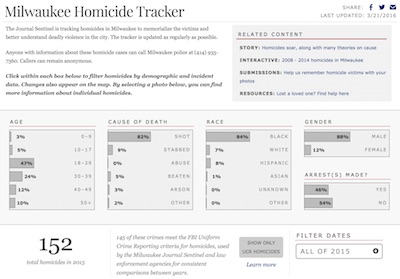 Search homicides in the city of Milwaukee by location, age, race, gender and date.