State Senator Mary Lazich (R-New Berlin) represents parts of four counties: Milwaukee, Waukesha, Racine, and Walworth. Her Senate District 28 includes New Berlin, Franklin, Greendale, Hales Corners, Muskego, Waterford, Big Bend, the town of Vernon and parts of Greenfield, East Troy, and Mukwonago. Senator Lazich has been in the Legislature for more than a decade. She considers herself a tireless crusader for lower taxes, reduced spending and smaller government.

Call it a lip-smacking labor of love.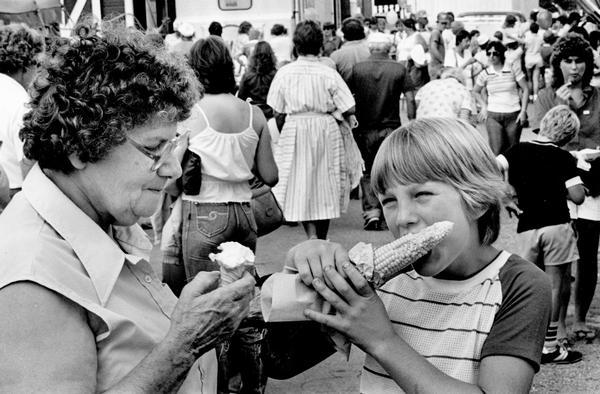 Bertha Hynek of Allenton is eating an ice cream cone while her grandson, Wesley Priesgen, 10, works on an ear of roasted corn at the Wisconsin State Fair. Photo: www.wisconsinhistory.org.





Photo: www.flickr.com

August 6 through August 16, 2009 at the Wisconsin State Fair, dedicated workers at the New Berlin Lions Club stand (shown above) will take picture perfect ears of Wisconsin sweet corn and lovingly dunk them into real, honest to goodness melted Wisconsin butter.

They will perform this mouth-watering ritual over 100,000 times, and the money goes to numerous charities statewide. All the corn dunkers and other workers are volunteers.




Photo: playinthecity.blogs.com

Fresh, roasted sweet corn on the cob dripping with butter is a rich New Berlin Lions Club tradition dating back more than 50 years. During 1957, the club opened its first corn roast stand at the Butler Lions Frontier Days celebration on Butler's main drag. Heavy rains almost completely ruined the club's efforts the following year. Soon after the near washout, the decision was made to move to the State Fair Park grounds.

The current corn roast stand was built during 1975 to comply with a state directive that all buildings and stands be permanent structures. Club members performed most of the construction of the stand and the club stopped using charcoal pits. A natural gas system prepared corn for the first time and was used until 1997, then self-contained units moved in and cooked the ears evenly and efficiently. Today, five units are capable of producing 800 cobs an hour each for a total of 4,000 cobs per hour. Seems so modern, compared to the day the bank refused the money because it was so laden with butter.

The popular stand has a loyal following that returns year after year.

Norb Stadler of Milwaukee told the Waukesha Freeman, "Basically, it's one of your stops, one of your haunts, if you will, at the fair."

Barbara Kershner of Menomonee Falls told the newspaper, "It always seems to taste better here than when you make it at home. Oh, and I like the butter - when they dunk it into that big vat of butter, that's pretty special."

Over 100,000 ears of corn sold, more than 1.5 tons of butter and 25 pounds of salt used, with all money raised for great causes. None of it would be possible without the devotion of 120,000 volunteers. New Berlin Lions members work a half dozen shifts and New Berlin Lionesses members work four shifts assisted by volunteers from all walks of life, including students, and numerous other clubs and organizations. Somehow, the altruistic flavor of the stand makes its signature product taste even better.

"It's good corn, but what makes this better is that it's going to charity," Stadler said during his interview with the Freeman. "They could charge $5 an ear and I still would pay it. The majority of this doesn't go in someone else's pocket, it goes to charity."

Not only is the New Berlin Lions Club roast corn tasty, it is very good for you. MSN.com reports roast corn on the cob is one of the best theme park foods.

MSN reports, "There's not much that the cooks can do to spoil this snack. Whether it's boiled, steamed or grilled, an ear of corn delivers just 201 calories and 1 gram of fat. Of course, dousing it in butter will add significant fat, and loading it with salt will up your sodium intake."

"But it's a whole grain, it's high in fiber and it has a natural sweetness—the combination may make you feel full and satisfied enough to resist other more fattening treats," says Tara Gidus, R.D., spokesperson for the American Dietetic Association.
It is amazing the labor, production, and results that take place over the 11 days of the fair. After the fair the Lions celebrate with a thank you dinner for all of the volunteers. Lions and Lioness prepare and serve up a Saturday night dinner for all of the Fair volunteers. Later on at Parade of Checks night, as all of the money is distributed to various causes, Lions sit back and are thankful that they are able to do so much for so many people.

As a New Berlin Lioness, I am pleased to volunteer every year at the popular New Berlin Lions Club Corn Roast Stand located at the corner of Central Avenue and Second Street. Please stop by the stand, buy an ear of corn, and say hello!
This site uses Facebook comments to make it easier for you to contribute. If you see a comment you would like to flag for spam or abuse, click the "x" in the upper right of it. By posting, you agree to our Terms of Use.